Panasonic's New Bluetooth® 5.3 Low Energy RF Module Based On The Nordic nRF52840 Single-Chip Controller - Available with APPROTECT
The PAN1780 Series RF Module is Panasonic's Bluetooth 5.3 Low Energy RF Module based on the Nordic nRF52840 single-chip controller.
Panasonic's PAN1780 Series Bluetooth 5.3 features enable a higher symbol rate of 2 Mbps using the high-speed LE 2M PHY or a significantly longer range using the LE coded PHY at 500 kb/s or 125 kb/s. The PAN1780 Series offers core Bluetooth Low Energy 5.3 functionality as well as long range and high speed modes. By way of a change in the Nordic Soft Device the PAN1780 Series can also operate as a Bluetooth Low Energy Mesh 1.0 flood mesh device or an 802.15.4 Zigbee or Thread directed-mesh node. In addition 1kB of NFC-A tag memory is available.
The new channel selection algorithm (CSA#2) improves the performance in high interference environments. Furthermore, the new LE advertising extensions allow for much larger amounts of data to be broadcasted in connectionless scenarios.
An output power of up to 8 dBm and the high sensitivity of the Nordic nRF52840 in combination with the LE coded PHY make the PAN1780 Series RF Module very attractive in applications where a long range is required.
In addition, the ultra-low current consumption of the PAN1780 Series makes this RF Module an ideal choice for Battery powered devices.
With the Cortex™ M4F processor, 256 kB RAM and the build-in 1 MB flash memory the PAN1780 Series can easily be used in standalone mode, thereby eliminating the need for an external processor, saving complexity, space and cost. The rich set of security features from the ARM® TrustZone® CryptoCell® 310 security subsystem provide the necessary means for secure device operation in the IoT space.
The PAN1780 Series also supports Type 2 Near Field Communication (NFC-A) for use in simplified pairing and payment solutions (external antenna required).
FCC, IC, and CE approval are in preparation.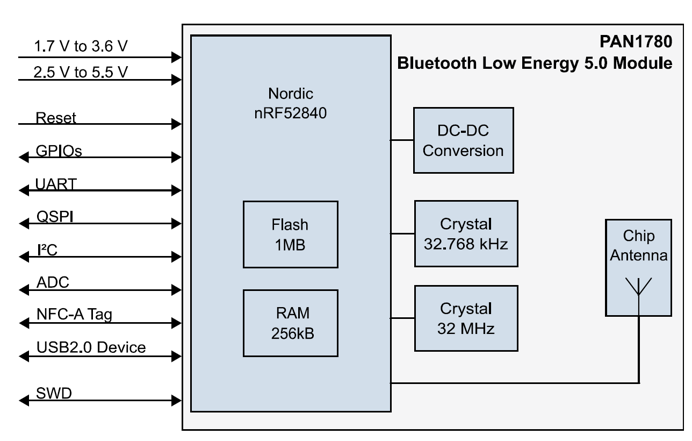 PAN1780 Series Evaluation Kit
The PAN1780 Series Evaluation Kit is an all-inclusive and comprehensive Evaluation Kit consisting of two USB dongles and two external NFC antennas. Each dongle allows design engineers to develop, run and debug code with the PAN1780 Series Module.
The break-out headers provide an easy way to connect Sensors, as well as other devices for rapid prototyping.
The USB Evaluation Boards are delivered without any preinstalled software examples, but an integration guide is available explaining how to use the recommended development environment and the free Nordic Semiconductors Software Development Kit, to run different kinds of Bluetooth, thread, ZigBee, 802.15.4 and Antennae software examples.
General Features and Benefits
Surface Mount Type Dimensions: 15.6 mm x 8.7 mm x 2 mm
Same Form Factor as PAN1026A and PAN1762 But Smaller Pitch And More Pins
Nordic nRF52840 Featuring ARM® Cortex®-M4F With 64 MHz
Bluetooth 5.3 Low Energy Including LE 2M And LE Coded PHY
Embedded 1 MB Flash Memory And 256 kB Internal RAM
Includes ARM® TrustZone® CryptoCell® 310 And Supports Secure Boot Including Root-of-Trust (RoT)
Up to 48 general purpose I/Os (GPIO), which are shared by up to 4 SPI, 2 I²C, 2 UART, 4 PWM, 8 ADC, 1 NFC-A, 32 kHz IN/OUT, nRESET
USB 2.0 Full-Speed Device Interface
Built-in Temperature Sensor
Available with APPROTECT