Panasonic's Bluetooth

®

Low Energy Beacon
Panasonic's PAN1740 Bluetooth Low Energy Beacon is based on one of the world's most energy efficient RF Modules, the Panasonic PAN1740 Series. The ultra-low power consumption of less than 5mA in Tx mode enables the PAN1740 Beacon to run on a single Coin Cell Battery for years. This compact Beacon is just 26 x 24mm and includes an antenna, ARM CORTEX M0, 256kB flash and CR2032 Coin Cell Battery holder.
The PAN1740 Beacon is pre-configured (using flash memory) for out-of-the-box evaluation and use. Simply apply power by inserting a CR2032 Battery and see the Beacon using the Locate Beacon App from the Google Play Store. The integrated flash memory is available for custom applications.
Block Diagram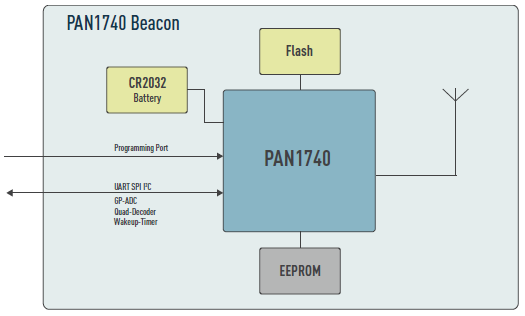 Features
Based on BT Smart System-on-Chip PAN1740
ARM CORTEX M0 with 256Kb Memory
26 x 24mm With Antenna
FCC/IC/CE Certified
Battery Holder For CR2032 Coin Cell
Reference Design For Standard Housing Available
Approximate Battery Life 18 Months, at 700ms Advertising Interval
SDK / Application Notes Available
To Access Wireless Connectivity Engineering Tools, please click here.