PAN9028 Series Wi-Fi Dual Band 2.4/5 GHz and Bluetooth® 5 Combo Module
Panasonic's Next Generation Wi-Fi and Bluetooth® Dual Band RF Module Featuring a Fast Dual-Core CPU, High-Speed Data Interface, and 802.11i Security Standard Providing the Highest Flexibility for Wireless Connectivity
The PAN9028 Series Wi-Fi and Bluetooth® 5 Dual Band Combo Module features 2.4 GHz and 5 GHz while supporting 802.11i a/b/g/n/ac security standards through AES, CCMP, and other security mechanisms. The PAN9028 Series is ideal for highly integrated and cost-effective applications and multimedia applications with 802.11e Quality of Service or QoS features. The simultaneous and independent operation of the two standards enables high data rates with 802.11ac and with the low-power operation of Bluetooth Low Energy.
The PAN9028 Series provides high-speed data delivery performance, reliability, and the quality requirements of next-generation products. Featuring, Tx power calibration data, Wi-Fi, and Bluetooth®, these system parameters are pre-stored on the one-time-programmable memory of the PAN9028 Series Module. This simplifies the certification process by reducing design, testing, and calibration efforts resulting in reduced time-to-market compared to discrete solutions. The new PAN9028 Series also offers an optional integrated PMIC that ensures one required supply voltage for the otherwise necessary four different internal voltage levels. This greatly simplifies hardware design while also reducing BOM costs.

Software

The PAN9028 Series is based on the NXP® chipset 88W8987 supporting 802.11a/b/g/n/ac simultaneous station, access point, and Wi-Fi Direct operations. The module is connected through the SDIO device interface to the host processor platform running a Linux operating system.
General Features and Benefits
Dual band 2.4 GHz/5 GHz 802.11 a/b/g/n/ac Wi-Fi and Bluetooth Combo Module
Supports 802.11i Security Standards Through AES, CCMP, and More
802.11e Quality of Service is Supported for Multimedia Applications
IEEE 802.11ac (Wave 2), 1×1 Spatial Stream with Data Rates up to 433 Mbps (MCS9, 80 MHz Channel Bandwidth)
IEEE 802.11ac MU-MIMO Beamformee
Bluetooth 5 including Low Energy
Dual Simultaneous and Independent WLAN and Bluetooth Operation
Dynamic Rapid Channel Switching (DRCS) for Simultaneous Operation in 2.4 GHz and 5 GHz Bands
Indoor Location and Navigation with IEEE 802.11mc
Coexistence Interface for Arbitration of Co-Located WLAN, Bluetooth, or Mobile Wireless System (e.g. LTE or ZigBee®)
Generic Interfaces Include SDIO 3.0 and High-Speed UART for Host Processor Connection
Software Driver Linux®
REACH And RoHS Compliant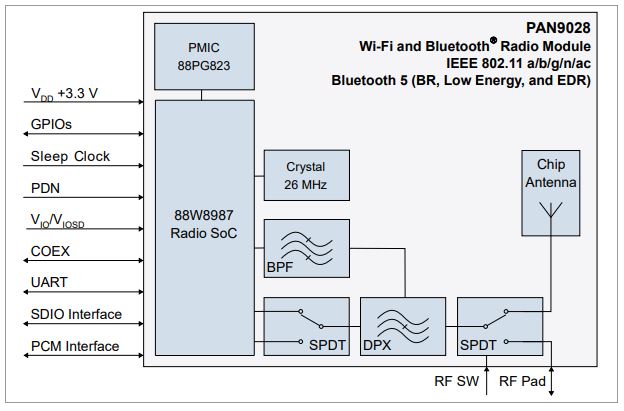 Technical Characteristics
Surface Mount Type (SMT) 24 mm × 12 mm × 2.8 mm
NXP® 88W8987 WLAN 2.4 GHz and 5 GHz and Bluetooth Single-Chip Solution Inside
Single Power Supply: 3.3 V with Marvell® 88PG823 Power Management IC (optional)
Tx Power: 16 dBm at 802.11b
Rx Sensitivity: –97 dBm at 802.11b DSSS 1 Mbps
Current Consumption: Wi-Fi Typical 320 mA In Tx and 70 mA In RX Mode
Temperature Range: -30°C To 85°C
IEEE 802.11ac 20 MHz, 40 MHz, 80 MHz Channel Bandwidth
Long and Short Guard Interval support
SDIO 1 Bit or 4 Bit