Wi-Fi Dual Band 2.4/5 GHz And Bluetooth® Module
Simultaneous and Independent Operation of Two Standards Specifically Designed for Highly Integrated and Cost-Effective Applications!
Introducing Panasonic's Wi-Fi Dual Band 2.4/5 GHz And Bluetooth Combo Module, the PAN9026 Series!
The PAN9026 Series is a dual band 2.4/5 GHz 802.11 a/b/g/n Wi-Fi Radio Module with integrated Bluetooth BDR/EDR/LE, specifically designed for highly integrated and cost-effective applications.
The simultaneous and independent operation of the two standards enables high data rates (802.11n) and low-power operation (Bluetooth Low Energy). Integrated power management, a fast dual-core CPU, 802.11i security standard support and high-speed data interfaces deliver the performance for the speed, reliability and quality requirements of next generation products. TX power calibration data and Wi-Fi/Bluetooth system parameters are pre-stored on the one-time-programmable memory of the PAN9026 during production at Panasonic. This simplifies passing the certification process for PAN9026 customers.
The PAN9026 Series reduces design, test and calibration effort resulting in reduced time-to-market compared to discrete solutions.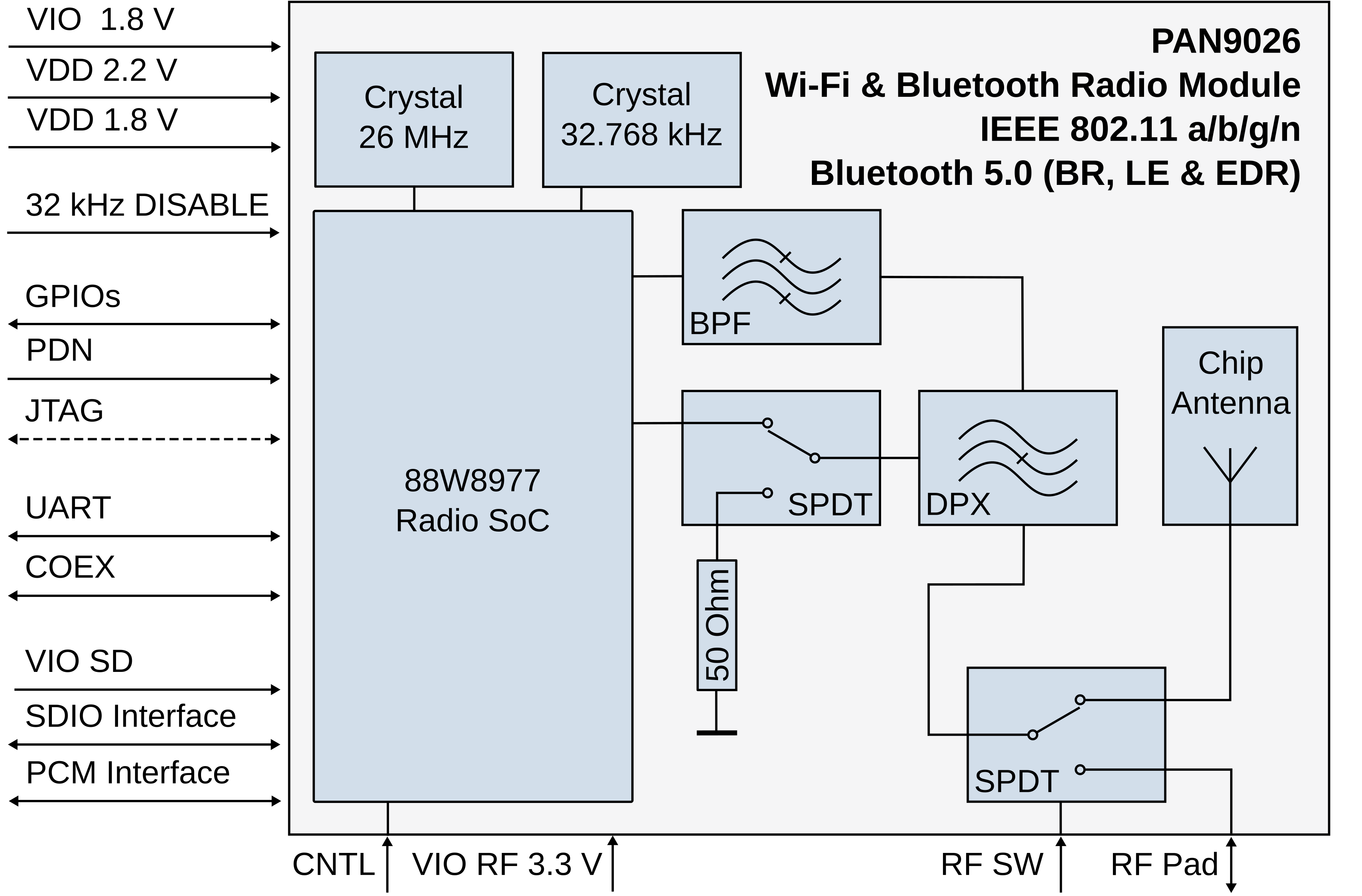 Features & Benefits
Dual Band 2.4/5 GHz 802.11 a/b/g/n Wi-Fi/BT Combo Module
Supports 802.11i Security Standards Through AES, CCMP and More Security Mechanisms
802.11e Quality of Service is Supported for Multimedia Applications
IEEE 802.11n-Compliant, 1x1 Spatial Stream with Data Rates up to MCS7 150 Mbps
Bluetooth 4.2 (Includes LE) as Well as Future Bluetooth 5.0 Features
Dual Simultaneous and Independent WLAN and Bluetooth Operation
Indoor Location and Navigation With IEEE 802.11mc
Power Management with Sleep Clock
Coexistence Interface for Arbitration of Co-Located WLAN, Bluetooth, or Mobile Wireless System (e.g. LTE)
Generic Interfaces Include SDIO 3.0 and High-Speed UART for Host Processor Connection
Software Linux/Android Driver
Wide Temperature Range of -30 to +85°C
RoHS and REACH Compliant
The PAN9026 Evaluation Kit contains two PAN9026 SDIO-Adapters packaged in a small case. The adapter has a SDIO interface and allows hardware access to the module pins. The kit is designed to be used with a Linux / Android system having installed the SW packages and Kernel drivers available at the Marvell XtraNet. The PAN9026 Evaluation Kit includes one micro SD-adapter FCC version, one i.MX-WB-IMX6 Cortex-A9 platform, one microSD card with Yocto Linux XFCE desktop environment image, and one adapter cable USB-A to DC 5.5/2.5mm plug.
To Access Wireless Connectivity Engineering Tools, please click here.