PAN1780-AT Series Bluetooth® 5.0 Low Energy Module With Integrated BlueRadios nBlue™ Bluetooth AT.s LE Command Set
The PAN1780-AT Series RF Module is Panasonic's Bluetooth 5 Low Energy (LE) RF Module based on the Nordic nRF52840 single-chip controller with integrated BlueRadios nBlue™ Bluetooth AT.s LE Command Set.
For information on the BlueRadios nBlue Bluetooth AT.s LE Command Set please contact your local Panasonic Sales Representative. Bluetooth 5 features additionally a higher symbol rate of 2 Mbps using the high-speed LE 2M PHY or a significantly longer range using the LE Coded PHY at 125 kb/s. The new channel selection algorithm (CSA#2) improves the performance in high interference environments. Furthermore, the new LE advertising extensions allow for much larger amounts of data to be broadcasted in connectionless scenarios.
An output power of up to 8 dBm and the high sensitivity of the nRF52840 in combination with the LE Coded PHY make the PAN1780-AT Series RF Module from Panasonic very attractive in applications where a long range is required. In addition, the ultra-low current consumption of the PAN1780-AT Series makes it an ideal choice for battery powered devices.
The Panasonic PAN1780-AT Series also supports Type 2 Near Field Communication (NFC-A) for use in simplified pairing and payment solutions (external antenna required).
The PAN1780-AT Evaluation Kit is an all-inclusive and comprehensive Evaluate Kit available to support rapid prototyping with the PAN1780-AT Series RF Module.
General Features and Benefits:
Surface Mount Type Dimensions: 15.6 mm x 8.7 mm x 2 mm
Same Form Factor As PAN1780
Nordic nRF52840 Featuring ARM® Cortex®-M4F With 64 MHz
Bluetooth 5 LE Including LE 2M And LE Coded PHY
Embedded 1 MB Flash Memory And 256 kB Internal RAM
Up To 46 General Purpose I/Os (GPIO), Which Are Shared With 1 UART, 8 ADC's, 1 NFC-A, And nRESET Input
USB 2.0 Full-Speed Device Interface
Built-In Temperature Sensor
RoHS AND REACH Compliant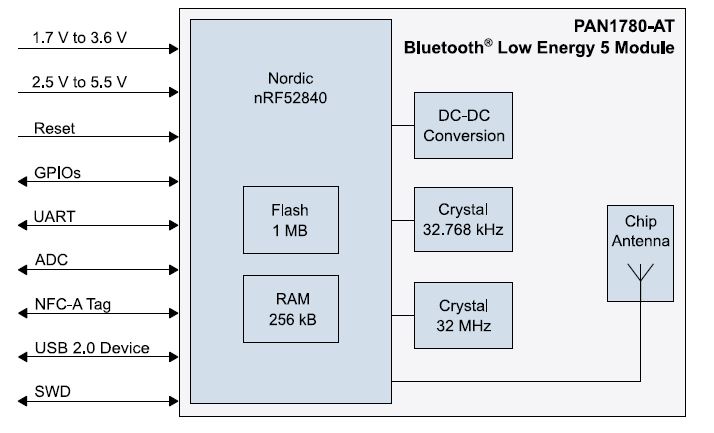 Bluetooth®:
LE 2 Mbps High Speed PHY, LE Long Range Coded PHY
LE Advertising Extensions (Advertising On 40 Channels Total)
Channel Selection Algorithm #2
LE Secure Connections
Over-The-Air Update Of Application Software
Technical Characteristics:
Typical Sensitivity: -95 dBm @ 1 Mb/s And -103 dBm @ 125 kb/s
Typical Max. Output Power: 8 dBm, Configurable From -20 dBm In 4 dB Steps And -40 dBm In Whisper Mode
Typical Current Consumption: 4.8 mA In Tx (@ 0 dBm) And 4.8 mA In Rx Mode
Typical Current Consumption: 0.4 μA In System OFF Mode
On-Module DC/DC And LDO Regulators With Automated Low Current Modes
Voltage Range: 1.7 V to 5.5 V
Temperature Range: -40 °C To 85°C