PAN4620 Series Mesh Networking Module
Introducing Panasonic's PAN4620 Series RF Module! The PAN4620 Series is Panasonic's Internet of Things Dual Mode RF Module comprising NXP's Kinetis KW41Z SoC - a 2.4 GHz 802.15.4 and Bluetooth® Low Energy wireless radio microcontroller with an integrated ARM® Cortex-M0+ core.
To provide maximum flexibility, the PAN4620 Series Module can be operated in stand-alone and hosted mode. With 512 kB flash memory and 128 kB SRAM, the PAN4620 can easily be used as a stand-alone controller eliminating the need for an external processor, reducing complexity, space and cost. It is thus well suited for very small and low-power applications. Integration of 802.15.4 and/or BLE connectivity into existing applications can also easily be achieved when using the PAN4620 in hosted mode.
Using the PAN4620 with low power consumption in combination with NXP's certified Thread® stack, BLE stack or a combination of both for concurrent operation allows meeting IoT application requirements without the need for a gateway. Since Thread® does not define an application layer, various application layers can be used, such as dotdot, IoTivity, OpenDOF, and others.
The PAN4620 Evaluation Kit is an all-inclusive and comprehensive Evaluation Kit consisting of one daughter board in an ESD bag.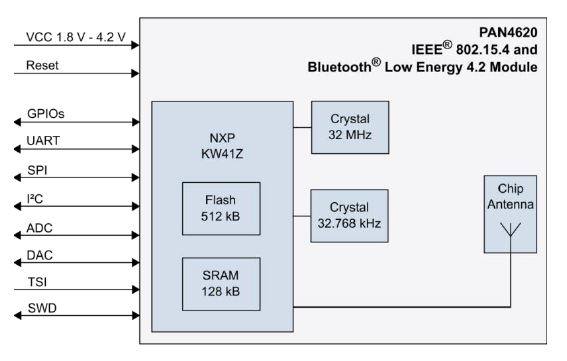 To Access Wireless Connectivity Engineering Tools, please click here.