Panasonic PAN1761 Series is being discontinued. Last time buy date is effective immediately. Please consult Panasonic PAN1026A, PAN1761, PAN1762, PAN172x, PAN456x & PAN9420 Series Wireless Connectivity Product Discontinuation Notice PDN.PG15.08.20.2021 for details.
The PAN1761 Series RF Module is a cost-effective, low-power, true system-on-chip (SoC) for Bluetooth Low Energy applications. It enables robust BLE central and peripheral nodes to be built with very low total bill-of-material costs. The PAN1761 Series combines an excellent RF transceiver programmable EEPROM memory, 32-KB RAM, and many other powerful supporting features and peripherals.
The PAN1761 Series is suitable for systems where very low power consumption is required, with very low-power sleep modes are available. Short transition times between operating modes further enable low power consumption.
The Panasonic PAN1761 Series offers an embedded and certified Bluetooth Low Energy protocol stack and BLE GATT profile inside the silicon device from Toshiba. The Bluetooth Low Energy protocol stack from Toshiba is a flexible and cost-effective single-mode Bluetooth Low Energy solution. Standard BLE or proprietary profiles are available for seamless integration into the application code.
Block Diagram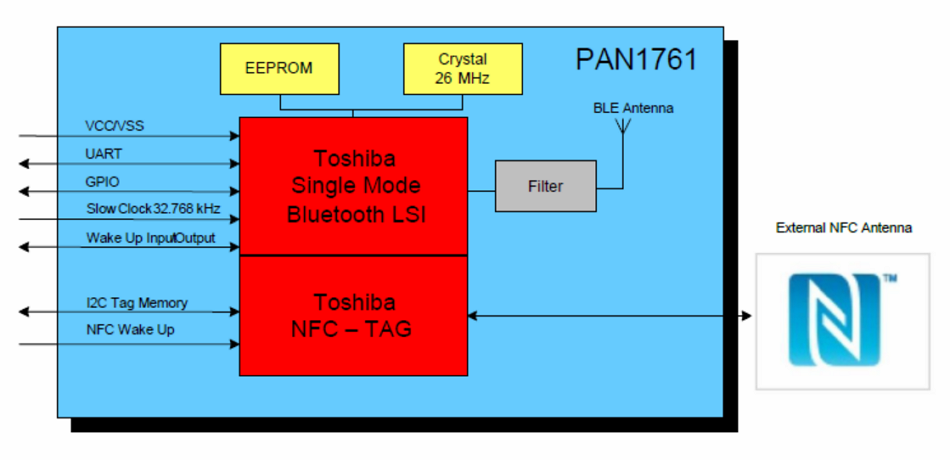 Features
Bluetooth 4.1 (LE) Embedded GATT Profile With High Level API Commands, Compatible To Toshiba Reference BLE Profiles
Surface Mount Type 15.6 x 8.7 x 1.8 mm³
Tx Power 0 dBm, Rx Sensitivity -90 dBm
Compliant to BT 4.1
32kB On-Chip RAM For Application Software And Driver
512kBit EEprom To Download User Program During Start Up
Operation With External Host Or As Host-less (Stand Alone)
Standard SIG BLE and "SPP Over BLE" Profiles Available
Temperature Range From -40°C to +85°C
1520kB Built-In EEPROM NFC Memory
NFC Forum Tag Type 3 Wired Interface
The PAN1761 Series Experimenter Kit is used to develop Bluetooth Low Energy and NFC applications with the Toshiba SDK on the TMPM369 Controller.
PAN1761 Series Evaluation Kit with NFC Antenna Available
SDK Demo Project with NFC Example
SDK Library For "Out-of-Band Pairing"
Android App As Example Application And Source Code