Panasonic's New Bluetooth 5.0 Low Energy RF Module Based On The Toshiba TC35680 Single-Chip Controller
Panasonic PAN1762 Series is being discontinued. Last time buy date is August 31, 2021. Please consult Panasonic PAN1026A, PAN1761, PAN1762, PAN172x, PAN456x & PAN9420 Series Wireless Connectivity Product Discontinuation Notice PDN.PG15.08.20.2021 for details.
Suggested Replacement: PAN1781 Series
Panasonic's PAN1762 Series RF Module, Panasonic's Bluetooth 5.0 Low Energy RF Module based on the Toshiba TC35680 single-chip controller.
The Bluetooth 5.0 features with the PAN1762 Series enable a higher symbol rate of 2 Mbps using the high-speed 2M PHY or a significantly longer range using the LE coded PHY at 500 kb/s or 125 kb/s. The new channel selection algorithm improves the performance in environments which are busy at 2.4 GHz. Furthermore, the new LE advertising extensions allow for much larger amounts of data to be broadcast in connectionless scenarios and are therefore favorable for beacon and mesh applications.
A high output power of up to 8 dBm (target value) and the industry leading sensitivity of the TC35680 in combination with the LE coded PHY make the PAN1762 Series very attractive in applications, where a long range is required. In addition, the ultra-low current consumption of the PAN1762 Series makes this RF Module an ideal choice for Battery powered devices.
Additionally, various sleep modes can be used to minimize power consumption and prolong Battery life time. To provide maximum flexibility, the PAN1762 Series RF Module can be operated in hosted as well as stand-alone mode. With the build-in 128 kB flash memory, the PAN1762 Series RF Module can easily be used in user-app mode, thereby eliminating the need for an external processor, saving complexity, space, and cost. FCC, IC, and CE approval are in preparation.
PAN1762 Evaluation Kit
The PAN1762 Evaluation Kit is an all-inclusive and comprehensive Evaluation Kit consisting of two USB dongles. Each dongle allows design engineers to develop, run and debug code. The break-out headers, provide an easy way to connect Sensors, as well as other devices for a rapid prototyping.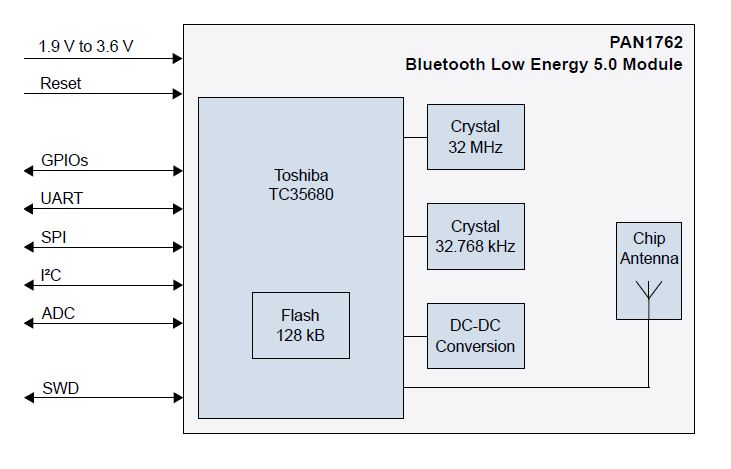 General Features and Benefits
Surface Mount Type Dimensions: 15.6 mm x 8.7 mm x 1.9 mm

Host Mode, AT Command Mode or Stand-Alone Operation Mode

18 General Purpose IOs

2∙SPI, 2∙I²C, UART, PWM, Wake-Up Inputs, General Purpose ADC

Toshiba TC35680 Featuring ARM® Cortex®-M0 (Selectable 16 MHz or 32 MHz Operation Frequency) with SWD Interface

128 kB Flash Memory and 128 kB Internal RAM For Application Code And Data Patches

Bluetooth Stack In ROM, Flash Memory Available For Application
To Access Wireless Connectivity Engineering Tools, please click here.